Hunter Whiskey
Branding, Packaging

Hunter Whiskey (c. 1870s~1949) is a Baltimore-based whiskey distillery owned by William Lanahan Sr (and later, William Lanahan Jr. and his siblings). Sr. was the first to federally register a Whiskey in the U.S, and while it did well regionally during his lifetime, Jr. expanded its reach through innovation and advertising. The brand was later sold to Seagram's and eventually discontinued.

This revival pays homage to the brand's original run by bringing architectural details of Hunter Whiskey's original distillery to the consumer through the visual language of the bottle and label.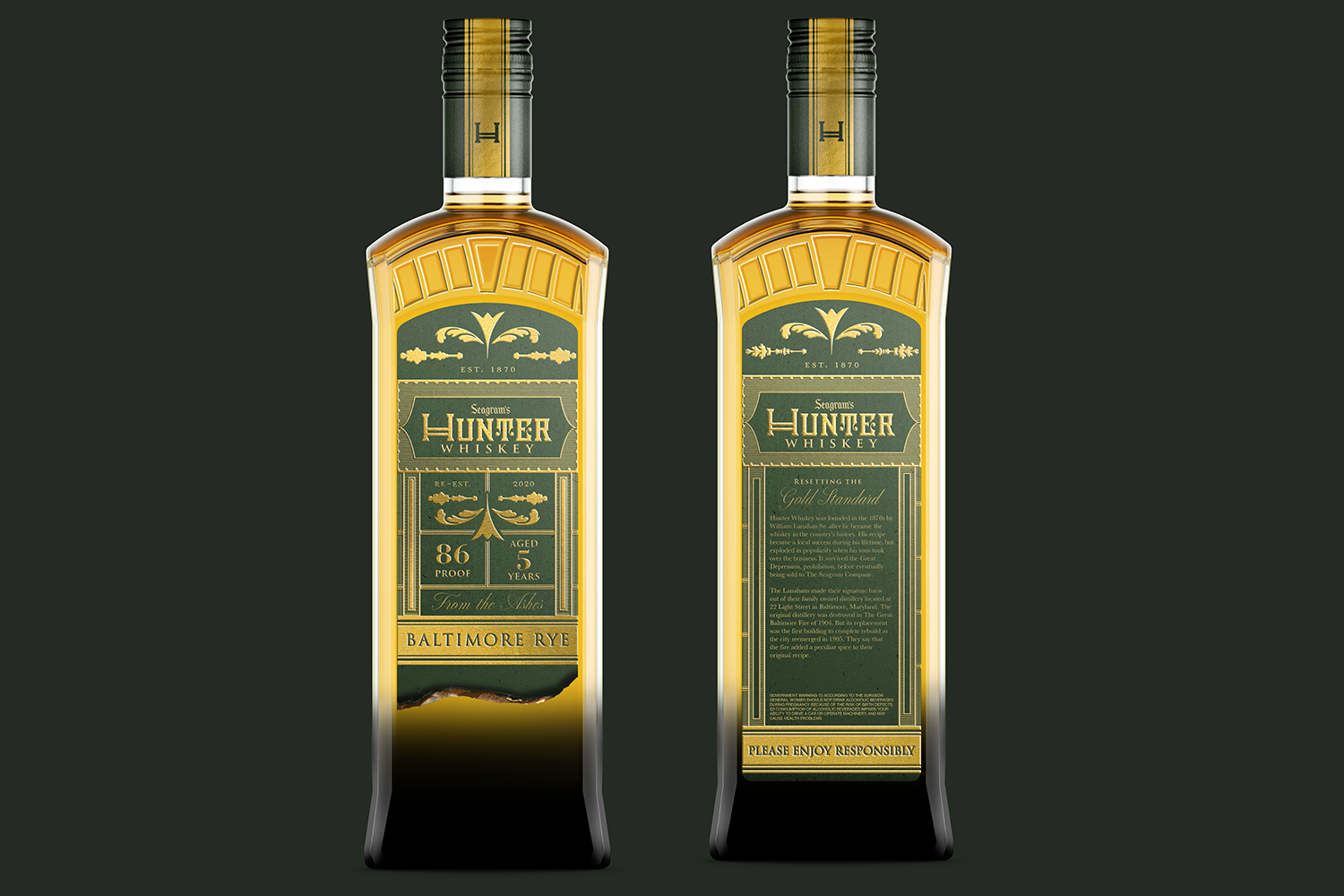 Bravura
Poster series

Bravura is defined as "a display of great daring." It is also the name of the annual literary journal of Palomar College, which publishes student works of prose, poetry, and art. Often, they capture current conversations in the zeitgeist and become a time capsule for their year.

On a campus that primarily advertises events with black and white letter-sized paper, these posters are meant to catch the viewer's eye with colors that connect to campus values, as well as contrasting their surroundings through sheer physical scale.

Bravura found parallels with the origins of Group, a collaborative typeface. Each letter represents the creative perspective of a different designer. Similarly, each selected work in Bravura represents the diverse perspectives of its editors and contributors. The posters were created to excite students about the publication and generate submissions to the journal's 2021 edition.
Branding, Packaging
+
Gisselle Ramirez
Learning Ladle is a meal kit service for college students. The service aims to make cooking accessible and fun for a new generation of home cooks who want to learn how to make healthy and satisfying meals. Learning Ladle offers meal options suitable for dormitory-sized storage systems, as well as full-sized meal options for students with access to full kitchens and larger storage systems.
Click here to view the full case study.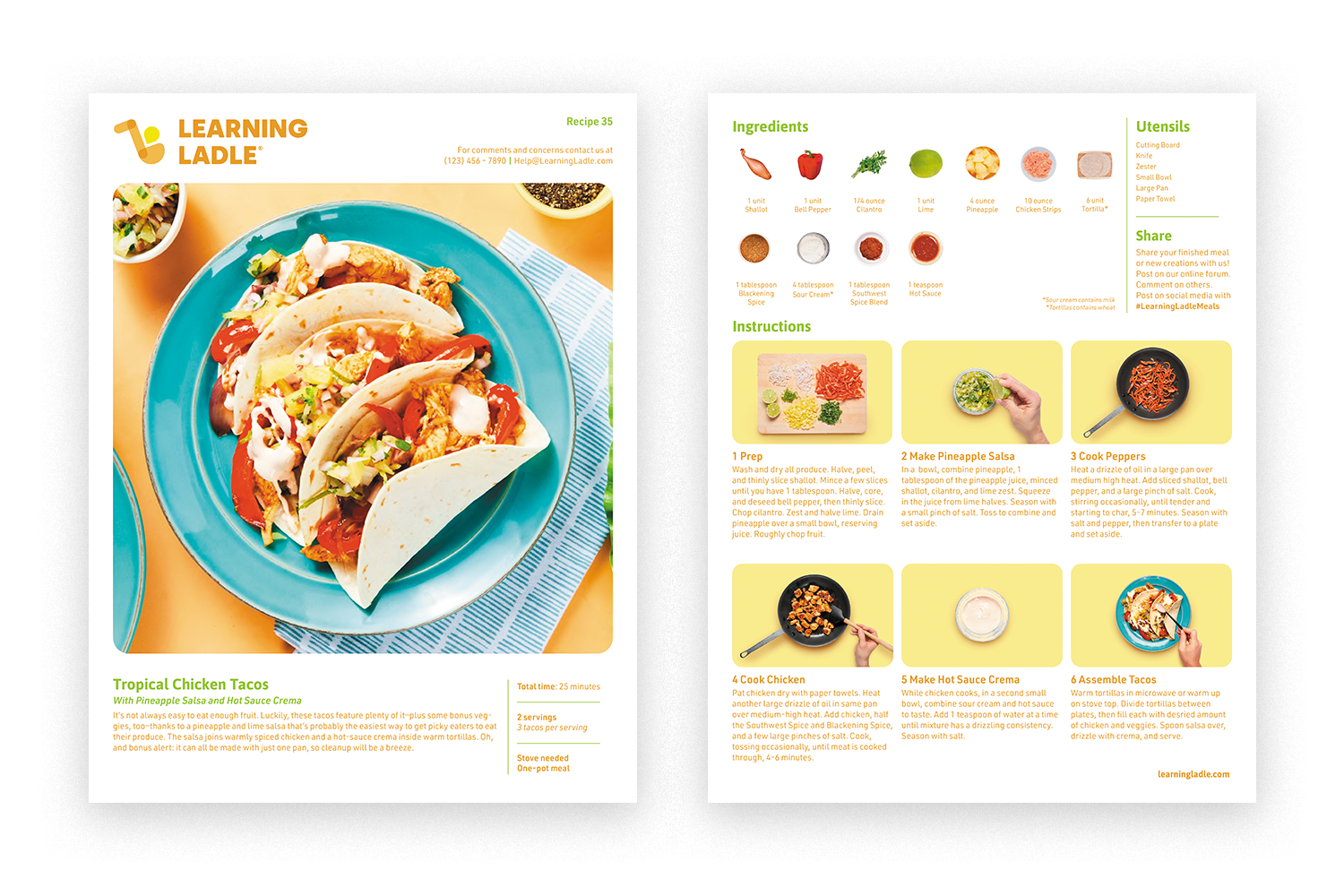 Branding
The Museum of Pop Culture in Seattle, WA curates and displays subsets of pop culture in elaborate and high-budget exhibitions. This identity system explores the ways in which the museum is not only an educational resource but also helps shape culture itself.
The supporting artwork of the identity references Warhol's icon portraits and his belief that everyone gets their own 15 minutes of fame. Their reasons for fame and the impact of their legacies are investigated in the MoPop's exhibitions. Sometimes this is through retrospectives of important figures and their impact on popular culture. Other exhibitions sometimes feature cultural artifacts that are currently in the zeitgeist, like a popular video game franchise or a subculture that is currently gaining traction.
Click here to view the full case study.
Escudario Lomo Plateado: Autocross Racing Team
Branding, Apparel

Escudario Lomo Plateado (Team Silverback Gorilla) is a Mini Cooper autocross team, led by San Diego-based contemporary artists Ingram Ober and Marisol Rendón. Ober and Rendón believe that their Mini Cooper's grill resembles a gorilla's stylized face. This inspired the name of their racing team.

This rebrand of their racing team was inspired by contemporary flat design and Formula 1 racecar aesthetics, while deliberately subverting the sharp and angular geometry commonly used to signify speed in automotive racing to better compliment the geometry of the Mini Cooper he races.